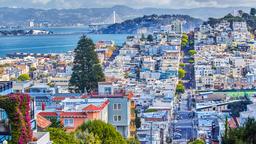 San Francisco pet friendly hotels
Search hundreds of travel sites at once for pet-friendly hotels in San Francisco
Most popular pet friendly hotels in San Francisco
Top tips for finding pet-friendly hotels in San Francisco
If you are looking for contemporary hotels in San Francisco that also accept pets, then the Grand Hyatt San Francisco is a great choice. Offering pet-friendly accommodation for small dogs only, enjoy the delights of this four-star hotel in Chinatown, along with your furry friend. Dogs up to 50 lbs. or two dogs up to 75 lbs. combined are welcome in one room, while beds, treats, and bowls are available upon request. You can walk your dog around Union Park across the street, or take advantage of the hotel's pet-sitting service.
If you plan to bring both your cat and dog to San Francisco, then consider booking a pet-friendly room at the Fairmont San Francisco. This five-star hotel allows two pets of any size to stay in your room, and they provide a bowl and bed. When you need to walk your dog, there is a park half a block from the hotel.
For those on a budget and looking for pet-friendly hotels in San Francisco, the Motel 6 San Francisco welcomes one pet of any size for no additional cost. This cheap two-star accommodation allows you to bring either a cat or dog to stay in your room for free.
If you're traveling with just a dog to the city, stay at Hilton San Francisco Financial District, where one dog weighing under 75 lbs. can stay for free.
For the best pet facilities, book a pet-friendly room at Hotel Zelos San Francisco. Here you may bring two pets, cats or dogs, up to 75 lbs. Pets may stay in your room unattended. Make use of the canine concierge that provides pet treats, beds, and water bowls. To exercise your pets, walk to a grassy area near the hotel.