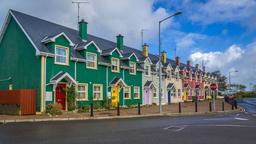 Galway Van Hire
Search hundreds of travel sites at once for van hire deals in Galway
Galway Van hire information
| | |
| --- | --- |
| Pick-up location | Galway |
| Car types | Van |
| Hire locations | 7 |
| Popular agencies | Enterprise, Budget, Payless |
Cheap Van Hire in Galway
| | |
| --- | --- |
| People carrier | €106/day |
| Passenger van | €110/day |
| Passenger van | €110/day |
| Passenger van | €110/day |
| Passenger van | €162/day |
| Passenger van | €180/day |
Best prices found by KAYAK users in the past 24 hours.
Galway Van Hire Reviews and Directory
Enterprise

Best rated
Cheapest deal
Most popular
8.8 Excellent (3 reviews)
╳
Enterprise reviews
Car hire locations
Enterprise
Locations in Galway
Ballybane Industrial Estate
+353 91 771 200
| | |
| --- | --- |
| Monday | 08:00 - 17:00 |
| Tuesday | 08:00 - 17:00 |
| Wednesday | 08:00 - 17:00 |
| Thursday | 08:00 - 17:00 |
| Friday | 08:00 - 17:00 |
| Saturday | 09:00 - 16:00 |
| Sunday | 11:00 - 14:00 |
10.0 Excellent
10 Mar 2017
Honest, efficient and reliable
Pros:
I have rented from both companies in Galway...they are like night and day. Enterprise is very reliable, customer oriented and efficient. Cars have all been high quality, in stark contrast to their competitors at Budget. The prices advertised by Enterprise are often higher than Budget, but in my experience the quality far exceeds the price difference and the folks at the Galway Budget office will intimidate you and flat out lie to get you to buy extras that you don't need...entirely unprofessional, but they know you often don't have the option to walk out on the rental by the time you get to the desk. I have rented from Enterprise 7-8 times and have been thoroughly impressed with their professionalism, honesty and efficiency every time.
8.8 Excellent
25 Feb 2017
Pros:
It was clean and easy to use
Cons:
I was worried the car couldn't handle long distances.
Budget

╳
Budget reviews
Car hire locations
Budget
Locations in Galway
12 Eyre Square
+353 91 566 376
| | |
| --- | --- |
| Monday | 09:00 - 18:00 |
| Tuesday | 09:00 - 18:00 |
| Wednesday | 09:00 - 18:00 |
| Thursday | 09:00 - 18:00 |
| Friday | 09:00 - 18:00 |
| Saturday | 09:00 - 18:00 |
| Sunday | 09:00 - 18:00 |
Pros:
Staff at counter was personable and professional.
Cons:
Two block walk to pick-up location, agent did not disclose specific location, vehicle was on the fourth floor. Instructions for drop off equally uncertain.
Pros:
My experience at Budget in Galway last week was pretty abysmal. Adrian met me out front and asked if I had a reservation, which I did. He then started off by demanding who I stayed with the previous night and where they live (really not sure why they need this information). Next he asked about insurance at which point I provided my letter from Chase (PDF on my phone) outlining my eligibility for "worldwide coverage under the Auto Rental Collision Damage waiver benefit." I had called Chase before my trip specifically to confirm that Ireland was not excluded from their coverage (given past rules) and they assured me that Ireland was included in their worldwide coverage benefit, and sent me this letter as proof. Adrian insisted that the letter must specifically state Ireland and refused to rent me the car I had reserved until I was able to provide one. The other options he provided were to go elsewhere or to get coverage through Budget and quoted me $500. At this point I would have loved to walk away but really needed the car and to get on the road. I called Chase and the woman I spoke with kindly offered to speak to Adrian but he declined, stating it would do not good without a letter. I then asked for his name but he refused to give me his last name saying he was not required to do so (was not wearing a badge or any form of identification). I then asked to speak with someone else and he called his manager, who confirmed that "worldwide coverage" is sufficient, and told him to move forward with my reservation. He proceeded to go through the steps and never once apologized for his misunderstanding of the policy. I am not one to write reviews and generally give people the benefit of the doubt- but I do feel like feedback is warranted in this case in hopes that others can avoid this experience. Adrian and Galway Budget aside, the car I rented was great and I had no issues with the drop-off at Shannon Airport. Despite this I will be avoiding Budget in the future.
Cons:
Better treatment of the customer and understanding of the policies. Wearing a name badge seems appropriate, and apologizing for the error would have also gone a long way.
Pros:
Dropoff difficult. Busy street. No instructions on how to park.. once I over came that, courteous and simple return. BUT see below.
Cons:
I was given a credit on my credit card for the tank of gas that had been reserved. Two days later and the credit has not shown up on my account.
Pros:
The car did not break down
Cons:
Service was not great at galway. Car was a bit small. High price and new drop off fee. I am also being charged 119$ for no reason and it has not gone off my credit card yet. I would like a call from someone at budget to clear this charge because I refuse to pay it since we dropped it off with fue
8.0 Excellent
15 Aug 2019
Pros:
The car was great, the staff at both locations were wonderful. At Kerry airport he went out of his way and helped us get our train!
Cons:
The price. When booked online it did not say you had to purchase their insurance. This double the price. And it was mandatory. Online it offered me other insurance for 81 usd, which I read the details thoroughly and purchased. I was told at Budget it was worthless. (Thankfully I cancelled in time).
Cons:
Clarify the Ireland insurance requirements that are necessary for a letter from your credit card or the fee that you will pay additionally. The Budget in Galway was really helpful and informative with helping resolve this issue.
Expensive, No Return Instructions, Dirty Windshild
Pros:
Car was easy to drive and nice size.
Cons:
Dirty windshield and exterior. Expensive.
Off site pick-up
Pros:
Office located in Eyre Sq. Car was must what I asked for GPS Garmin was available.
Cons:
Walking 10 minutes to get the car from a parking garage. The lot pass was invalid and no parking garage attended was on duty. Another drive walked up and used his to let us go through the gate.
Confused about where to drop
Pros:
The drop center was in a 24 hour parking garage.
Cons:
After parking the car in the garage and dropping the key in the office, we were asked if we left it on the 4th floor - there were no directions stating to do this. They were okay when we stated we didn't know that, but it would have been nice to have better directions.
Cons:
Customer service agent tried to stuff us round, trying to charge exorbitant prices. Said I was happy to go elsewhere then started offering a more reasonable price. Pick up/drop off not convenient in Galway.
Payless

╳
Payless reviews
Car hire locations
Payless
Locations in Galway
12 Eyre Sq
+353 91 394 374
| | |
| --- | --- |
| Monday | 09:00 - 18:00 |
| Tuesday | 09:00 - 18:00 |
| Wednesday | 09:00 - 18:00 |
| Thursday | 09:00 - 18:00 |
| Friday | 09:00 - 18:00 |
| Saturday | 09:00 - 18:00 |
| Sunday | 09:00 - 18:00 |
Cons:
I was quoted one price and then when I went to pick to pick the car up they made me pay 3.5x the price because I was booking on a Euro credit card not and American credit card. Then they have you walk 4 blocks and to the top of a parking garage to collect the car. God help you if you have bags or it's raining. If it was cheap to rent I would t have minded walking. But at that outrageous cost you'd expect a little bit of service maybe bring the car to the rental shop?!
Sunnycars

Sunnycars
Locations in Galway
Europcar

Europcar
Locations in Galway
MOTOR PARK, 3rd EXIT OFF KIRWAN RB
+353 91 396 555
keddy by Europcar

keddy by Europcar
Locations in Galway
Motor Park, 3Rd Exit Off Kirwan Rb
19 travellers who hired a car in Galway gave the car agency they used an average rating of 5.8
Top Tips For Hiring a Van in Galway
25% of our users found a van hire in Galway for €80 or less
Book your van hire in Galway at least 2 weeks before your trip in order to get a below-average price
FAQs About Hiring a Van in Galway
How does KAYAK find such low van hire prices?
How much does a van hire cost in Galway?
Which car hire companies in Galway rent vans?