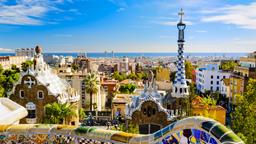 Barcelona Hotels with pools
Search hundreds of travel sites at once for hotels with a pool in Barcelona
Most popular hotels with a pool in Barcelona
Top tips for finding hotels with a pool in Barcelona
Fans of hotels in Barcelona with pools should appreciate The Rooftop at Sir Victor at the Sir Victor Hotel, which offers amazing views of La Sagrada Família and Casa Milà by Gaudi. Take in these magnificent Barcelona sights while you lounge on a sun bed or swim a few laps in the rooftop pool. The Rooftop also has its own bar and dining area, so you can spend the day at the pool if you like.
Claris Hotel & Spa Gl is another hotel in Barcelona where accommodations feature Pre-Columbian and Egyptian objets d'art within its 124 guest rooms. The rooftop pool will let you admire the Barcelona skyline from your lounge chair, before or after you take a refreshing lap or several. This is an especially good idea after a workout at the gym, which is also located on the rooftop.
Soho Hotel – Barcelona on Plaça del Duc de Medinaceli provides two pools for its guests to enjoy: one indoor at the Cowshed Spa and another outside on the rooftop, so you always have an opportunity for a relaxing swim after a wellness day, or if you wish to get some sun and enjoy the view of the city before a visit to the onsite cinema or cocktail bar.
Purobeach Barcelona at Hilton Diagonal Mar Barcelona is an urban oasis where you can relax at a pool with 140 sun beds while you enjoy the Puro Music provided by the resident DJ. Purobeach Barcelona also provides an outdoor restaurant as well as shower and changing rooms, so you are never far away from the 'beach' at this hotel in Barcelona.